Diese Webseite is auch in deutscher Sprache verfügbar!
---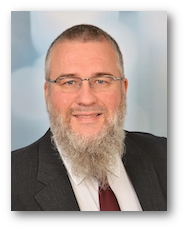 Dr. Hubert Feyrer
Dr. Hubert Feyrer has studied technical computer science at the University of Applied Sciences (FH) Regensburg. This was followed by employment as Unix/Solaris/NetBSD system administrator and as computer science teacher, both at the University of Applied Sciences Regensburg as well as Stevens Institute of Technology in Hoboken, NJ, USA. After receiving a PhD in Information Science from the University of Regensburg start as developer of hard- and software as well as network and security solutions, with later promotion to IT manager (CTO). As such, performing security consulting according to ISO 27001 and later changing into the automotive sector as Chief Information Security Officer (CISO). Recent occupations include working as CISO for one of Germany`s largest process- and people service provider and a major German car manufacturer, currently responsible as Cyber Security Expert for a supplier of the energy sector.

Here is a list of publications; a full CV is available on request.
---
Here's your personal fortune cookie:


Man raubt, stiehlt, lügt, plündert. Wie aber nennt man's?
Kolonisieren, zivilisieren, Kultur verbreiten. Man mordet, meuchelt,
massakriert. Die 'logificatio post festum' aber nennt es: Seelsorge,
Christentum, Dienst am Ideal. So sind denn die Ideale nur Masken der
Bestie Mensch. Wehe jedem, der dieses Spiel ernst nimmt. Wehe jedem,
der daran glaubt.
		-- Gotthold Ephraim Lessing

---
Interests:
Cyber Security, Information security, ISO 27001, risk management, security awareness, information security management systems (ISMS), IT service continuity management (ITSCM), data privacy and data protection
Classes: Misc:
---
This page has been accessed 1170305 time.
---
Copyright (c) Hubert Feyrer. All rights reserved.
$Id: hubert_feyrer_english.html,v 1.34 2021/12/30 00:34:04 feh39068 Exp $