---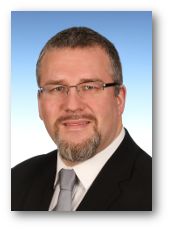 Dr. Hubert Feyrer
Seinem Studium der technische Informatik an der FH Regensburg folgten Tätigkeiten als Systembetreuer Unix/Solaris/NetBSD und Informatik-Dozent an FH Regensburg und am Stevens Institute of Technology in Hoboken, NJ, USA. Nach Promotion im Fach Informationswissenschaft an der Universität Regensburg Tätigkeit als Entwickler von Hard- und Software sowie Netzwerk- und Security-Lösungen mit Aufstieg zum IT-Leiter. Dabei auch Aufbau Security Consulting nach ISO 27001, gefolgt vom Wechsel als Chief Information Security Officer (CISO) in den Automotive Bereich. Zuletzt tätig als CISO für einen der größten Prozess- und Personaldienstleister Deutschlands und aktuell Verantwortung als CISO eines großen deutschen Automobilbauers.
Interessierte finden hier eine Liste meiner Veröffentlichungen; ein Lebenslauf ist auf Anfrage erhältlich.
---
Here's your personal fortune cookie:


DETERIORATA
Go placidly amid the noise and waste,
And remember what comfort there may be in owning a piece thereof.
Avoid quiet and passive persons, unless you are in need of sleep.
Rotate your tires.
Speak glowingly of those greater than yourself,
And heed well their advice -- even though they be turkeys.
Know what to kiss -- and when.
Remember that two wrongs never make a right,
But that three do.
Wherever possible, put people on `HOLD'.
Be comforted, that in the face of all aridity and disillusionment,
And despite the changing fortunes of time,
There is always a big future in computer maintenance.
     You are a fluke of the universe...
     You have no right to be here.
     Whether you can hear it or not, the universe
     Is laughing behind your back.

---
Interessensgebiete:
Informationssicherheit, ISO 27001, Risikomanagement, Security Awareness, Information Security Management Systems (ISMS), IT Service Continuity Management (ITSCM), Datenschutz
NetBSD: Mein Blog, der NetBSD-Teil meines Lebenslaufs, und diverse Informationen über den Nachfolger der Berkeley Software Distribution. (NetBSD rules!)
g4u: Harddisk Image Cloning für PCs
Vorlesungen: Diverses:
---
This page has been accessed 770505 times.
---
Copyright (c) Hubert Feyrer. Alle Rechte vorbehalten.
$Id: hubert_feyrer_deutsch.html,v 1.30 2016/09/16 22:30:01 feyrer Exp feyrer $