---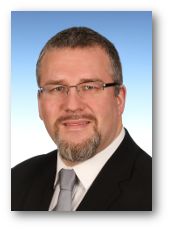 Dr. Hubert Feyrer
Dr. Hubert Feyrer studierte technische Informatik an der FH Regensburg. Dem folgten Tätigkeiten als Systembetreuer Unix/Solaris/NetBSD und Informatik-Dozent an FH Regensburg und am Stevens Institute of Technology in Hoboken, NJ, USA. Nach Promotion im Fach Informationswissenschaft an der Universität Regensburg Tätigkeit als Entwickler von Hard- und Software sowie Netzwerk- und Security-Lösungen mit Aufstieg zum IT-Leiter. Dabei auch Aufbau Security Consulting nach ISO 27001, gefolgt vom Wechsel als Chief Information Security Officer (CISO) in den Automotive Bereich. Zuletzt tätig als CISO für einen der größten Prozess- und Personaldienstleister Deutschlands und aktuell Verantwortung als CISO eines großen deutschen Automobilbauers.
Interessierte finden hier eine Liste meiner Veröffentlichungen; ein Lebenslauf ist auf Anfrage erhältlich.
---
Here's your personal fortune cookie:


"A programmer is a person who passes as an exacting expert on the basis
of being able to turn out, after innumerable punching, an infinite
series of incomprehensive answers calculated with micrometric
precisions from vague assumptions based on debatable figures taken from
inconclusive documents and carried out on instruments of problematical
accuracy by persons of dubious reliability and questionable mentality
for the avowed purpose of annoying and confounding a hopelessly
defenseless department that was unfortunate enough to ask for the
information in the first place."
 -- IEEE Grid newsmagazine

---
Interessensgebiete:
Informationssicherheit, ISO 27001, Risikomanagement, Security Awareness, Information Security Management Systems (ISMS), IT Service Continuity Management (ITSCM), Datenschutz
NetBSD: Mein Blog, der NetBSD-Teil meines Lebenslaufs, und diverse Informationen über den Nachfolger der Berkeley Software Distribution. (NetBSD rules!)
g4u: Harddisk Image Cloning für PCs
Vorlesungen: Diverses:
---
This page has been accessed 1025115 times.
---
Copyright (c) Hubert Feyrer. Alle Rechte vorbehalten.
$Id: hubert_feyrer_deutsch.html,v 1.33 2020/08/02 21:22:26 feyrer Exp feyrer $